---
Westshore Yoga Class Options for Summer 2021
In Studio Group Classes are Back July 12!!

In Studio Private Sessions are Available by appointment

Summer pass Available for Online Group Classes via Zoom

Monday Wednesday Friday Mornings 9:30AM

Check Calendar for more details.
    1.  In Studio – Full Registration Only –  $100 – $120

Guaranteed spot in a 3 student in-studio class

Online link for the class will also be provided should staying home be more appropriate

For committing to more than one class per week, your fees are reduced by 10%

For health reasons credit will provided for missed classes for next term if makeups are not possible.
    2. Online – Summer 6 class pass – $90 or  5 class pass for $75

Receive Zoom links for all classes and come to a total of 6 classes over the 6 weeks.

The link can be used within your household on one device.

All online participants must fill out registration form and waiver.

    3. Online – Unlimited Drop In – 6 Weeks – $160
Receive Zoom links for all session classes.

Classes are scheduled 3 days a week for 6 weeks; you have the flexibility to attend as many online classes as you wish during current session.

The link can be used within your household on one device, family members are welcome to participate along with you.

All participants must fill out a registration form and waiver.

    4. Private or semi Private sessions
$75 for 60 min for a single session or $240 for a package of 4
Registration for classes or privates will be taken by email or phone.
Paid for by email transfer prior to the first class. Cash or cheque for studio classes also works.
---
Class Descriptions
Level 1 is a class recommended for beginners or those content to continue to work on mobility, stability and strength on the introductory syllabus. 
Level 2 is a class for  students ready to work with inversions and deeper work. It is highly recommended that students are beginning a regular home practice.
Level 3 is a  challenging class for more experienced students ready to refine the art of yoga even further. There is regular work with inversions, balancings, twists as well as forward and back extensions. It is expected that students have a regular home practice. Teachers  approval is required to attend this class.
Multi Level classes are designed around the needs of the students attending. Options for the various levels will be provided so all students are both challenged and safe.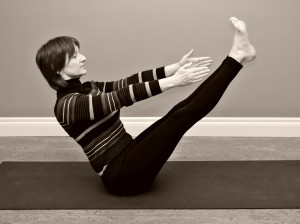 ---
The Gentle class is a class for people needing a less intense class, those recovering from an injury or illness. We gently open the joints of the body using props as needed.
A whole array of props such as blankets, mats, bolsters, straps, chairs and blocks could be used to modify poses as required. It is important to discuss any concerns with your teacher prior to class.
---
Restorative/Pranayama is a multilevel class focusing on supine poses and breathing techniques.
Pranayama is translated as breath control. In the Iyengar method this is approached with care when the students have some capacity for asana, the postures.
One day a week will be devoted to this work. The class will be on a different day each week on a rotating basis.