"Movement creates life.
Stillness creates Love.
To be still while moving that is everything."
---
The mind, the body and the spirit are not mutually exclusive but rather forever bound. Due to our particular nature and our life experiences we may focus on one part and neglect the others. If we are to mature and develop to our full potential in this life we need to deepen our awareness of all three.
There is no one way to do that. That is why I appreciate this visual representation of contemplative practices. On this contemplative tree, yoga is put on a limb, where they are referring to the physical practices.
In Patanjali's Yoga Sutras – yoga is explained as a unity of our mind, body and spirit with its source. This could also be explained as an awareness of our true nature, an awareness of where we come from and where we are going. This awareness occurs when the mind is still.  This contemplative state of mind can occur anytime. When our whole self is engaged in the present moment, when fluctuations of the mind cease, now, we are in Yoga.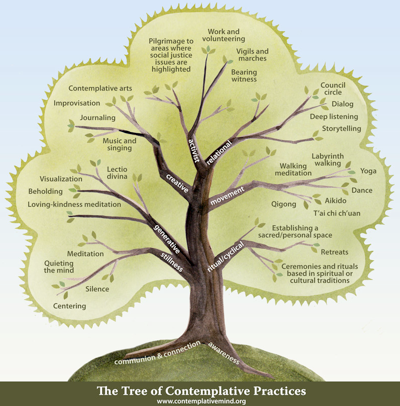 We can each make a tree of our own. Looking at our life, what activities in our life lead us into this state and which ones hinder us.  Bringing the light of our awareness to how we spend our time is the beginning to creating a balanced, integrated life and Action will surely follow.
To get started check out: www.contemplativemind.org to print out a blank tree.